使用说明:
Rscript $scriptdir/lasso_cox.r -h 
usage: /work/my_stad_immu/scripts/lasso_cox.r [-h] -i data -t time -e event -v
                                              variate [variate ...] [-s seed]
                                              [-l lambda] [-P predict.time]
                                              [-o outdir] [-p prefix]

lasso cox regression analysis

optional arguments:
  -h, --help            show this help message and exit
  -i data, --data data  input data file path[required]
  -t time, --time time  set suvival time column name [required]
  -e event, --event event
                        set event column name [required]
  -v variate [variate ...], --variate variate [variate ...]
                        variate for cox analysis [required]
  -s seed, --seed seed  set random seed [default 2021]
  -l lambda, --lambda lambda
                        set lambda cut off [default NULL]
  -P predict.time, --predict.time predict.time
                        Time point of the ROC curve to select cutoff [default
                        365 1095 1825]
  -o outdir, --outdir outdir
                        output file directory [default cwd]
  -p prefix, --prefix prefix
                        out file name prefix [default lasso_cox]

使用举例:
Rscript $scriptdir/lasso_cox.r -i imm.unicox.metadata-exp.tsv -e EVENT -t TIME \
  -v SYT12 CDH2 GPNMB TMIGD3 LINC01094 SLC22A20P IGHV4-61 IGHV2-5 SERPINA5 MS4A4A FAM83A IGLV3-9 STARD3    -o lasso
参数说明:
-i 输入生存数据,与基因表达文件 
| | | | | | | | | | | |
| --- | --- | --- | --- | --- | --- | --- | --- | --- | --- | --- |
| barcode | TIME | EVENT | FGR | CD38 | ITGAL | CX3CL1 | CEACAM21 | MATK | CD79B | MMP25 |
| TCGA-B7-A5TK-01A-12R-A36D-31 | 288 | 0 | 16.34408 | 86.86772 | 40.26903 | 603.0132 | 1.868536 | 2.28342 | 3.453198 | 13.72829 |
| TCGA-BR-7959-01A-11R-2343-13 | 1010 | 0 | 11.96739 | 15.79451 | 7.358566 | 26.91353 | 2.571917 | 0.864116 | 1.879957 | 3.451148 |
| TCGA-IN-8462-01A-11R-2343-13 | 572 | 0 | 5.350846 | 3.111342 | 3.769125 | 20.22238 | 0.610839 | 0.519776 | 2.822192 | 1.106563 |
| TCGA-CG-4443-01A-01R-1157-13 | 912 | 0 | 1.53802 | 0.862955 | 2.37351 | 19.04097 | 1.092127 | 0.760348 | 1.926592 | 0.878735 |
| TCGA-KB-A93J-01A-11R-A39E-31 | 1124 | 0 | 15.24016 | 13.3047 | 38.08591 | 14.15295 | 3.483559 | 3.192951 | 3.651742 | 10.43186 |
| TCGA-HU-A4H3-01A-21R-A251-31 | 882 | 0 | 6.261761 | 2.675173 | 7.025886 | 4.050271 | 0.584159 | 1.039336 | 1.979214 | 2.312993 |
| TCGA-RD-A8MV-01A-11R-A36D-31 | 3720 | 0 | 27.07415 | 20.15885 | 34.91309 | 34.71821 | 4.113112 | 2.615557 | 16.51946 | 17.72674 |
| TCGA-VQ-A91X-01A-12R-A414-31 | 289 | 1 | 1.062341 | 0.752018 | 2.380513 | 4.415815 | 0.518142 | 0.212197 | 1.239203 | 0.582114 |
| TCGA-D7-8575-01A-11R-2343-13 | 554 | 1 | 42.12665 | 6.86405 | 26.1565 | 52.41987 | 2.853084 | 9.824916 | 4.138801 | 5.030352 |
| TCGA-BR-8485-01A-11R-2402-13 | 280 | 0 | 25.90812 | 12.82056 | 30.65228 | 16.49019 | 3.033067 | 3.498083 | 7.771042 | 5.309015 |
| TCGA-D7-A748-01A-12R-A32D-31 | 132 | 1 | 24.63917 | 5.58798 | 11.61812 | 11.11332 | 3.543125 | 2.443914 | 3.501343 | 2.338182 |
| TCGA-VQ-A91Z-01A-11R-A414-31 | 1690 | 0 | 15.30907 | 0.282728 | 1.902445 | 16.6445 | 0.652479 | 0.220248 | 0.109621 | 0.911825 |
| TCGA-RD-A7C1-01A-11R-A32D-31 | 507 | 1 | 22.84513 | 9.611072 | 14.94431 | 5.857966 | 3.243776 | 1.993854 | 4.617576 | 6.656729 |
| TCGA-CG-4465-01A-01R-1157-13 | 274 | 1 | 11.01848 | 3.2437 | 16.75908 | 3.962907 | 2.761824 | 1.267627 | 2.155049 | 1.858322 |
| TCGA-BR-8384-01A-21R-2402-13 | 113 | 0 | 15.50016 | 6.808935 | 29.87046 | 25.81994 | 3.846517 | 3.277526 | 7.957455 | 4.519639 |
| TCGA-HU-A4G8-01A-11R-A251-31 | 690 | 0 | 7.527245 | 5.605723 | 23.17087 | 5.796453 | 2.2814 | 1.983006 | 16.13655 | 9.410047 |
| TCGA-BR-8382-01A-11R-2402-13 | 762 | 1 | 19.62473 | 5.774798 | 12.34635 | 71.23714 | 3.814144 | 2.832469 | 5.00467 | 8.386162 |
| TCGA-HU-A4G9-01A-11R-A24K-31 | 736 | 0 | 2.078504 | 0.446876 | 1.363617 | 1.121539 | 0.113845 | 0.528398 | 0.771445 | 2.704629 |
| TCGA-BR-8289-01A-11R-2343-13 | 81 | 1 | 4.310812 | 2.515848 | 5.747723 | 7.29023 | 1.090392 | 5.493223 | 4.324129 | 2.328028 |
| TCGA-BR-A44U-01A-11R-A36D-31 | 422 | 1 | 3.826054 | 0.742352 | 2.135874 | 5.699938 | 0.039517 | 0.311807 | 0.51122 | 0.902007 |
| TCGA-HF-A5NB-01A-11R-A31P-31 | 928 | 0 | 3.69683 | 1.088005 | 7.617025 | 1.757371 | 1.400757 | 1.625366 | 0.769616 | 1.490192 |
| TCGA-R5-A7ZE-01B-11R-A354-31 | 554 | 1 | 1.538295 | 0.947096 | 0.777948 | 3.410414 | 0.804264 | 0.138651 | 0.403436 | 6.658023 |
| TCGA-FP-7829-01A-11R-2055-13 | 594 | 0 | 12.28237 | 0.781318 | 5.613579 | 8.832561 | 2.554426 | 3.793948 | 2.274555 | 2.120219 |
| TCGA-D7-6522-01A-11R-1802-13 | 566 | 0 | 32.70644 | 13.9756 | 56.46687 | 35.31465 | 12.53402 | 10.22565 | 119.3415 | 10.9099 |
| TCGA-CD-A487-01A-21R-A24K-31 | 374 | 0 | 13.55841 | 2.039681 | 2.889515 | 15.1464 | 1.182142 | 0.696399 | 1.470464 | 4.257127 |
| TCGA-HU-A4GF-01A-11R-A24K-31 | 785 | 0 | 9.987734 | 16.81528 | 12.3633 | 27.06354 | 1.301881 | 0.993662 | 2.111913 | 5.013326 |
| TCGA-R5-A7O7-01A-11R-A33Y-31 | 1389 | 0 | 4.999295 | 3.350161 | 7.87305 | 11.13146 | 1.642943 | 1.698416 | 5.451512 | 4.626745 |
结果展示: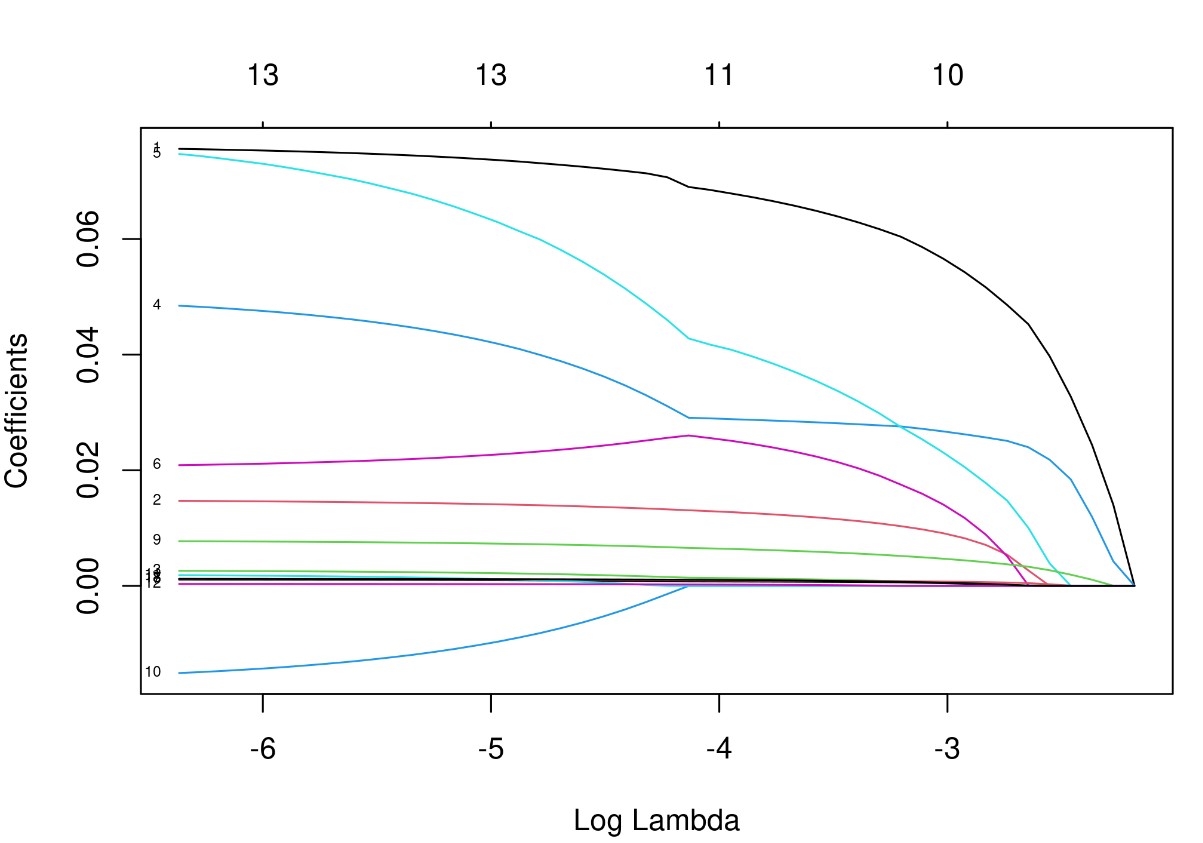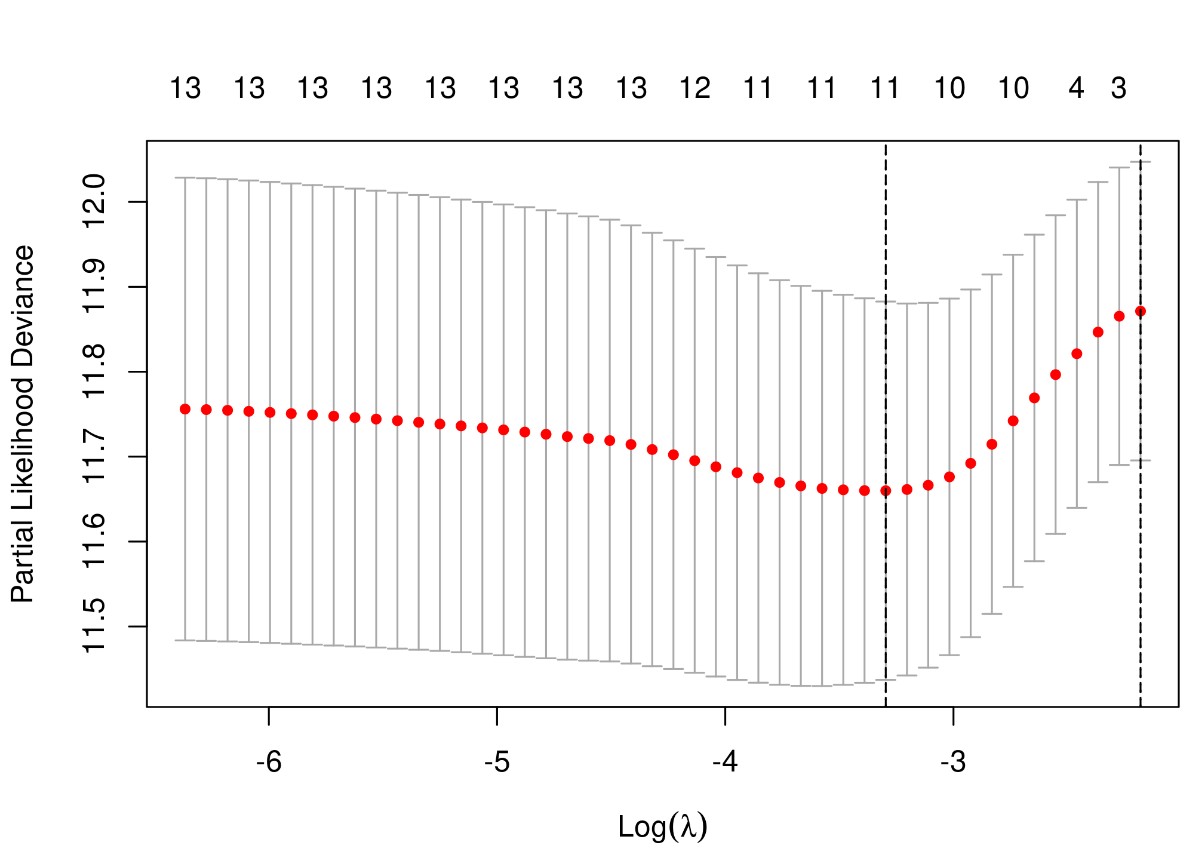 Construction of a predictive model and the CIHI. (A, B) The LASSO Cox regression model was constructed from 11 signature genes, and the tuning parameter (λ) was calculated based on the partial likelihood deviance with ten-fold cross validation.
参考文献:
We applied the Cox regression model with LASSO based on the R package "glmnet" to construct an optimal  gene‐associated prognostic model。
The Risk score was calculated with the following formula: The  risk score=

, where Expri represents the expression level of gene i and coefi represents the regression coefficient of gene i in the signature.We grouped all patients into low- or high-risk groups according to the median value of IGPM‐based risk signature and performed survival analysis with Kaplan-Meier method. The logrank test was used to compare the difference in the survival status between the high‐ and low‐risk groups.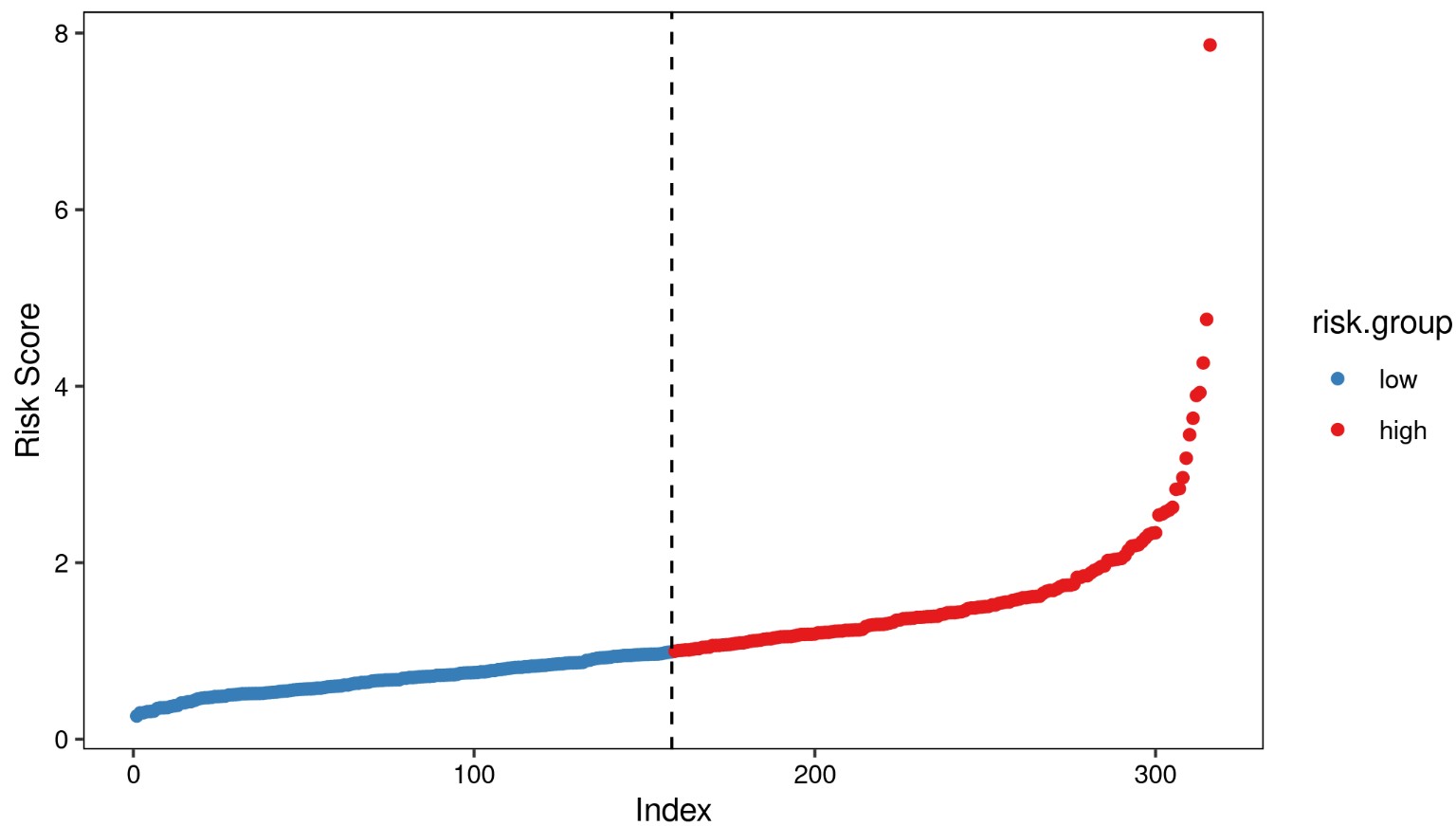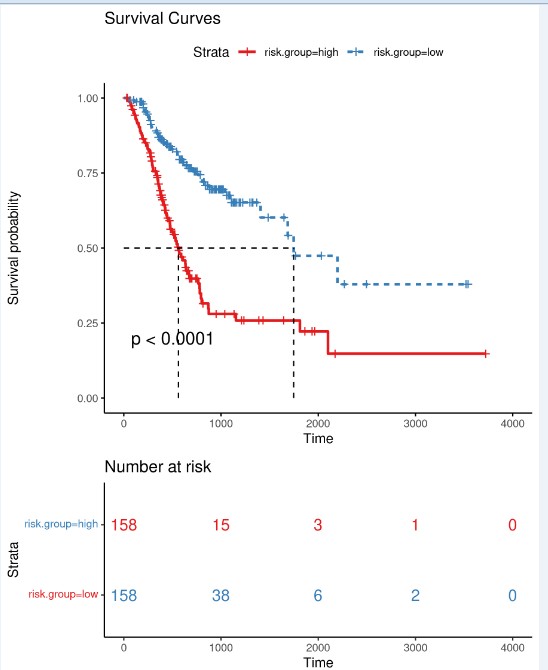 To reflect the prediction ability of the IGPM‐based risk signature, we generated the time-dependent receiver operating characteristic curve (ROC) and calculated the area under the curve (AUC)  (R package "survivalROC" ) for 1-year, 3-year, and 5-year overall survival (OS). The Kaplan-Meier, log‐rank, ROC curve, and calibration analyses were all performed and visualized by the "survivalROC", "rms", "survival", and "survminer" packages.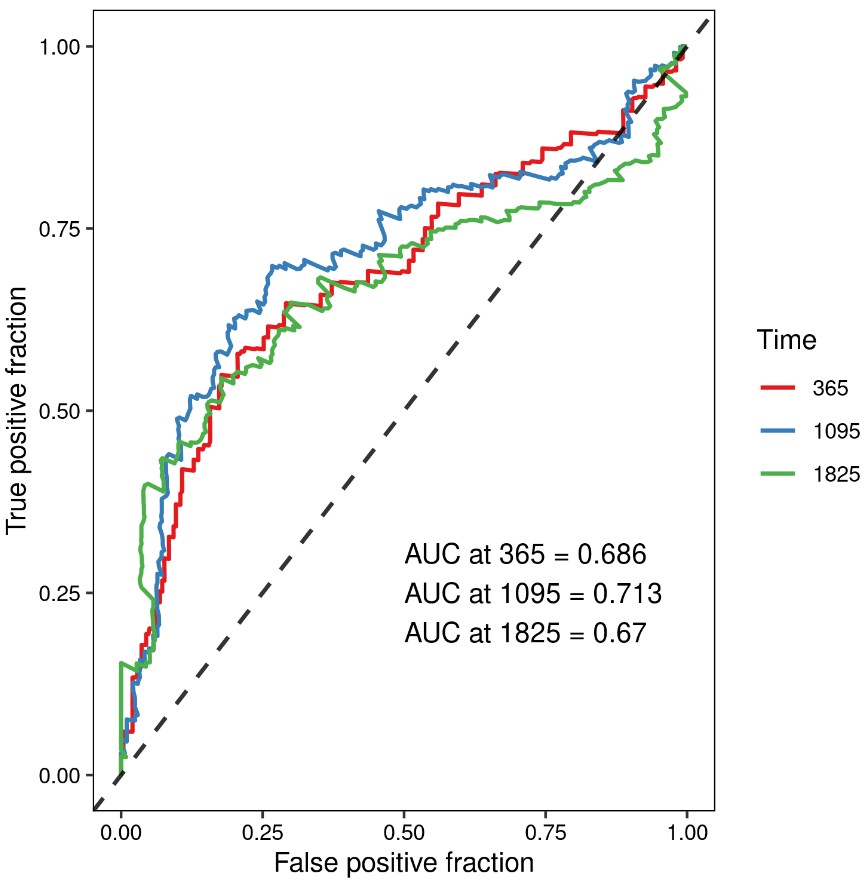 Tibshirani R (1997) The lasso method for variable selection in the Cox model. Stat Med 16, 385–395.
References
Simon, Noah, Jerome Friedman, Trevor Hastie, and Robert Tibshirani. 2011. "Regularization Paths for Cox's Proportional Hazards Model via Coordinate Descent." Journal of Statistical Software, Articles 39 (5): 1–13. https://doi.org/10.18637/jss.v039.i05.
Therneau, Terry M., and Patricia M. Grambsch. 2000. Modeling survival data: extending the Cox model. Springer.